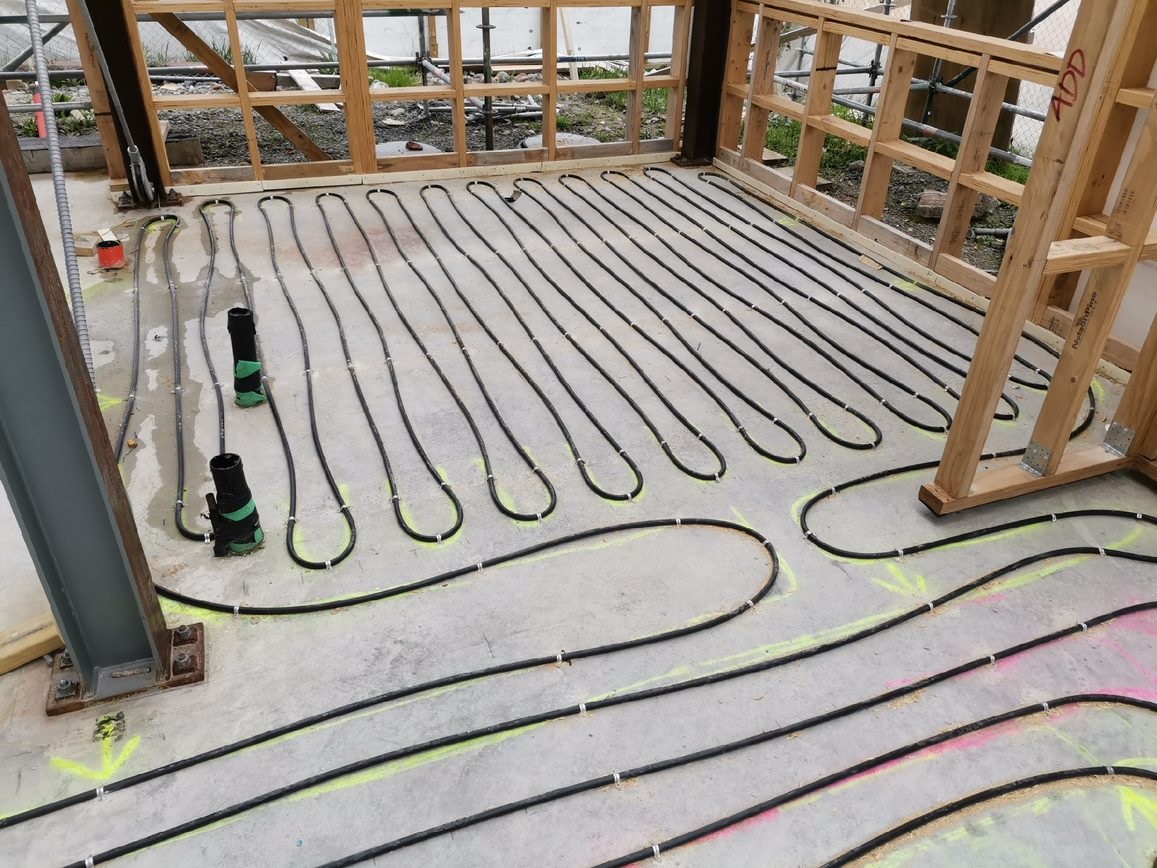 Keeping you toasty warm at the Ōtākaro Orchard Cafe and Information Centre is our 'Supply Chain Superhero' warmth.nz's underfloor heating system. We met with Martin and Lara at warmth.nz to have a chat about the system, and what made them want to join us.
Warmth.nz first got involved with Ōtākaro Orchard's build during the process of designing the Centre. After hearing about us through the architects at Field Studio, warmth.nz were keen to contribute. They got in touch, and kindly supplied us with the hydronic underfloor heating system at a ​price we could not ignore.
We loved their system because it's the most efficient way to heat a space. Warmth.nz's system utilises water that's heated by a nifty air-to-water heat pump. For every kilowatt of energy that goes into the heat pump, 4.88 kilowatts of energy are produced to heat
the building. Water is pumped throughout the building via the pipes, then returns to the heat pump for reheating. In this way the water is incrementally heated through a 'multipass system', and the building is always kept at a constant temperature. The running costs are low, because not much energy is needed to maintain the water's temperature.
The concrete slab, which houses the underfloor water pipes, can hold about 2,000 times more heat energy than air. As the heated water passes through the pipes, the heat gradually makes its way through the concrete. Then it radiates outwards and upwards into the building, heating the entire space. Combine this with solar panels – which warmth.nz love – and you have a very efficient house! This is the technology that will help to keep our Centre warm during those chilly winter months.
Outside of underfloor heating, warmth.nz are passionate about providing a higher quality of living to kiwis. Their company values; excellence, constant improvements, collaboration, and accountability; keep them at the forefront of technological advances. Warmth.nz found that the healthy and warm home environment that their system creates actually helps to lower the risk of respiratory illness. They do work alongside the Superhome Movement to educate kiwis on healthy and energy efficient home design. This education includes underfloor heating, among other home elements like insulation, ventilation, energy, and sustainable materials.
Warmth.nz's contribution helps our Centre to carry through the Ōtākaro Orchard values. The Centre will provide people with a sense of belonging (whanaungatanga), the community food forest encourages collective action (kotahitanga), and the heating allows us to provide comfort and hospitality to everyone who enters (manaakitanga). Tena koutou to warmth.nz for helping us build a welcoming community space in central Christchurch.
They offer free quotes for your home or building, even if it's early stages, and they will get back to you with an estimate. You can find out more at https://warmth.nz/, or send them an email: info@warmth.nz.